Pizza Calabrese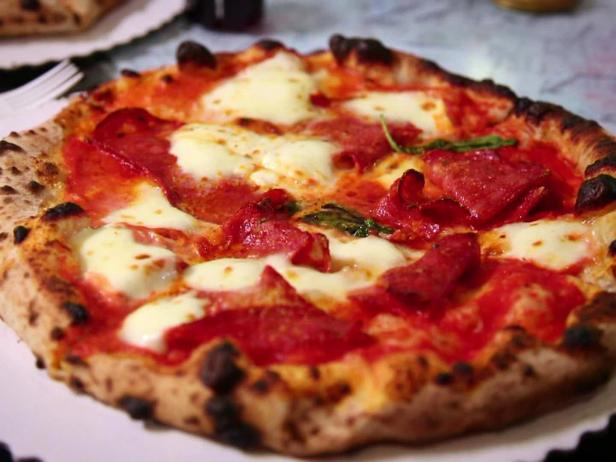 Dough:
Toppings:
Special equipment: a wood-fired oven and a pizza peel
For the pizza dough: Prepare the yeast by mixing it in 1 cup warm water. When it's frothy, add it to the flour and salt in a mixing bowl. Combine until smooth. Portion the dough into 4 balls and let rest for 24 hours.
Heat a wood-fired oven to 350 to 400 degrees F. Flour a work surface, and hand stretch and form the dough balls into the appropriate pizza shapes. Transfer to a floured pizza peel.
For the toppings: Season the San Marzano tomato sauce with a pinch of salt. Scoop a ladleful over each of the pizza dough rounds and spread until it almost reaches the edge of the pizza. Top the pizzas with some mozzarella, salami, basil, Parmesan and a drizzle of olive oil. Bake until golden brown and bubbling, about 1 1/2 minutes.