Spinach and Pepperoni Stuffed Deep Dish Pizza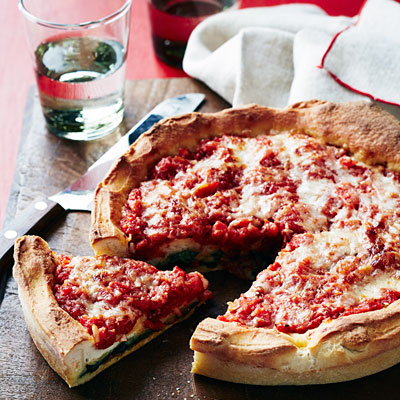 INGREDIENTS
2 tbsp. olive oil
1 bunch spinach
1 can petite diced tomatoes
1 clove garlic
½ tsp. dried oregano
¼ tsp. granulated sugar
2 tbsp. grated Parmesan
kosher salt
Pepper
cornmeal
1 lb. pizza dough (thawed if frozen)
2 oz. pepperoni
3 oz. part-skim mozzarella
1 oz. grated Asiago cheese
Green salad
DIRECTIONS
Heat oven to 425 degrees F. Generously oil an 8-inch cast-iron skillet. Heat 1 tablespoon oil in a large skillet over medium heat. Add the spinach; cook, tossing occasionally, until beginning to wilt; transfer to a plate and let cool; squeeze out excess moisture.
In a medium bowl, combine the tomatoes, garlic, oregano, sugar, 1 tablespoon Parmesan, remaining tablespoon oil, 1/4 teaspoon salt, and 1/2 teaspoon pepper.
On a surface lightly dusted with cornmeal, shape each ball of dough into a 12-inch circle. Transfer one circle to the prepared pan, fitting it in the bottom and up the sides, letting the excess hang over the edges.
Scatter the pepperoni over the dough in an even layer. Top with the spinach and mozzarella. Place the remaining dough on the spinach and cheese, fitting it up the sides of the pan. Using a sharp knife, cut six 3-inch slits in the top of the dough (to help the steam from the spinach escape).
Spoon the tomato mixture onto the dough, then sprinkle with the Asiago and remaining tablespoon Parmesan. Pinch the two overhangs together to seal, then cut away the excess dough.
Lightly brush the dough with oil and bake until the crust is golden brown and the cheese has melted, 25 to 30 minutes. Let cool for 5 minutes, then transfer to a cutting board. Serve with a salad, if desired.