Meat lovers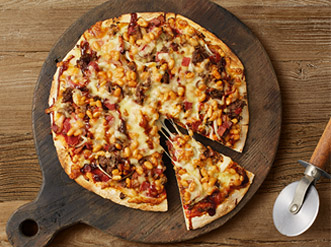 Meat Lovers Pizza
Ingredients
1 (4 oz) hot Italian turkey sausage, casing removed
12-inch Whole Wheat Thin Pizza Crust
1/2 cup pizza sauce
3/4 cup reduced fat 2% shredded mozzarella cheese
10 slices turkey pepperoni, sliced into quarters
2 Tbsp. Crumbled Bacon Bits
1 t sp.Italian seasoning
Directions
Preheat the oven to 450°.
Place sausage in a small skillet and bring it over medium heat. Break up the meat with a wooden spoon and cook until sausage is browned.
Spread pizza sauce evenly across the top surface of the pizza crust, leaving at least a 1/2-inch edge around the outside. Sprinkle the shredded mozzarella evenly over the top, followed by the pepperoni pieces. Spread the cooked sausage crumbles evenly across the pizza and follow with the bacon bits. Finish the pizza by sprinkling the Italian seasoning over top.
Place pizza on a foil covered baking sheet, a preheated pizza stone (my preference) or straight onto the oven rack (depending on how you like your crust) and bake for 8-10 minutes.
Serving Size: 1 slice
Calories: 207
Fat: 8 g
Protein: 14 g
Carbs: 24 g
Fiber: 4 g