Peri peri barbecue chicken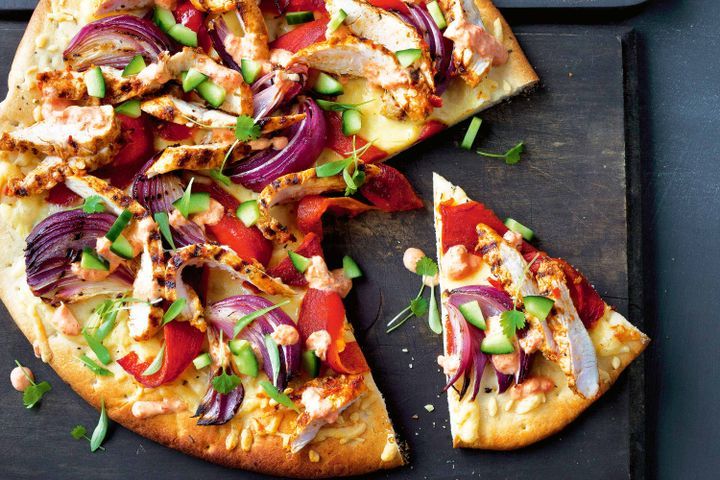 INGREDIENTS
 2 red capsicums

 70g (1/4 cup) no-fat Greek yoghurt

 2 garlic cloves

 1 long red chilli, chopped

 1 teaspoon sweet paprika

 1 teaspoon dried oregano leaves

 1 tablespoon lemon juice

 2 teaspoons extra virgin olive oil

 400g chicken tenderloins

 1 large red onion, cut into thin wedges

 2 pizza bases

 80g (1 cup) coarsely grated Mainland Noble White reduced-fat cheddar

 1 Lebanese cucumber, seeded, finely chopped

 Micro coriander, to serve
METHOD
Step 1

Preheat barbecue with hood on medium. Spray capsicums with oil. Cook, turning, for 15-20 minutes or until charred. Place in a bowl and cover with plastic wrap. Stand for 5 minutes. Peel and deseed. Thickly slice 1 1/2 capsicums. Process other half in a food processor until smooth. Place in a bowl and stir in yoghurt. Season.

Step 2

Meanwhile, process garlic, chilli, paprika and oregano until coarsely chopped. Add lemon juice and oil. Process until combined. Season. Transfer to a bowl and add chicken. Marinate for 10 minutes. Chargrill, turning, for 4-5 minutes or until cooked through. Slice and keep warm.

Step 3

Spray onion with oil. Chargrill, turning, for 2-3 minutes until tender.

Step 4

Place pizza bases on 2 baking trays. Sprinkle with cheese. Top with capsicum and onion. Barbecue, with hood closed, for 12-14 minutes or until base is crisp and cheese melts.

Step 5

Top the pizzas with chicken, cucumber and coriander. Drizzle with capsicum yoghurt.